// ECOMMERCE WEBSITE Development SERVICES
Trusted e-commerce Website Development Company
The core objective of any online store development is to give the users an experience equivalent to that of a physical store as well as provide the administrator with easy management facilities. At Rootcoder Software agency an Qualified  eCommerce website development company in Bangladesh, we take care of both the requirements by ensuring the following criteria for our online store development services:
THE USERS
Easy Navigation & Engaging Interface
Multiple Product Images For Real Life Feeling
Easy & Quick Checkout Process
Categories & Filters to Streamline Search
Secured Payment Gateways
Proper Order Tracking Modes
THE ADMINISTRATOR
Easy Navigation & Engaging Interface
Multiple Product Images For Real Life Feeling
Easy & Quick Checkout Process
Categories & Filters to Streamline Search
Secured Payment Gateways
Proper Order Tracking Modes
// We use a various development platform
Ecommerce Website Development Platforms We Use:
Magento Development
Magento is one of the widely used platforms for eCommerce website development that can store thousands of products and handle heavy traffic seamlessly. Due to its modular structure, it allows deep customization of both the front-end and back-end. It is effective for building an online marketplace where multiple vendor stores can be set up and providing an unmatched level of security due to its PA-DSS compliance.
WordPress Development
WordPress websites are lightweight, faster to build and extremely easy to manage. We use WooCommerce which is the most popular eCommerce plugin for WordPress with 30% of the market share. Built with REST API, WooCommerce is highly scalable and offers secure online payment, configurable shipping options and many other features required for a fully functional eCommerce website.
OpenCart Development
One of the main perks of OpenCart is easy customization. Thanks to the use of AJAX, websites developed using OpenCart are extremely lightweight. It supports over 14000 extensions that can be plugged-in effectively to enhance functionalities of the online store. As a reputable eCommerce website development company in India, we can help you create a beautiful online store at a reasonable cos
Custom Development
Do you need your online marketplace with features and functionalities specific to your business? Engaging our experienced developers for building a custom eCommerce solution can work wonder for you then. We can craft feature-rich, easily navigable, user-friendly and lightweight eCommerce website for your business. We use frameworks like Laravel, CakePHP, CodeIgniter, NodeJS and databases like MySQL, MS-SQL, PostgreSQL, etc. to develop robust and scalable online stores.
PrestaShop Development
When using PrestaShop, you do not have to deal with a lot of technical aspects or complex coding. It is free, lightweight and easy to use. Besides, it offers multilingual support which allows you to sell your products or services in a global market. Our professional eCommerce website developers are well acquainted with this platform and can build unique eCommerce websites for your business.
Mobile App Marketing
Shopify is a fully hosted eCommerce platform that helps to set up an online store real quick. With 100+ professional themes and several useful plugins, it takes minimal development efforts. Our Shopify developers can build and deliver an eCommerce storefront for your business with features like Drop Shipping, Fraud Prevention, SEO optimized, Social Media Integration and more.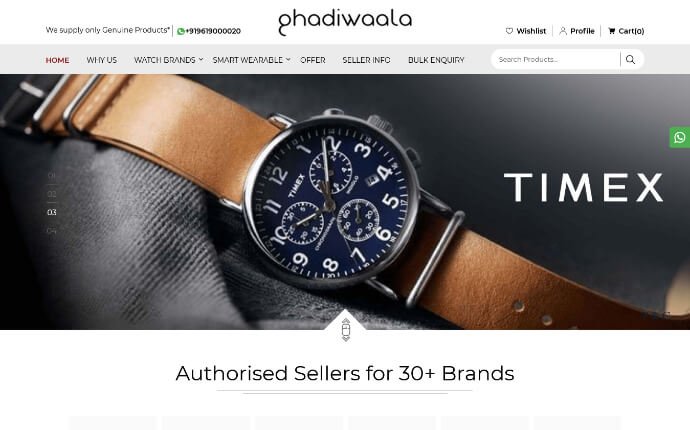 An Online Store Selling Outfits & Accessories
We developed the eCommerce website for the leading fashion brand RENE. Built with Magento, the single-domain multi-store supports multi-currency. Some of its features include SMS alert, newsletter, online payment gateway (CCAvenue, Razorpay) etc.
Multi Vendor Marketplace Development
The multi vendor marketplace is a large eCommerce store that allows multiple vendors to register and sell their products. It allows the vendors to handle orders and products through their own dashboards and the administrator to control the entire marketplace through a single dashboard. We develop custom eCommerce marketplaces that enable users to buy products from multiple vendors. Following are some of the features we include in a multi vendor eCommerce marketplace:
Microsite Features
Unique profile for each seller / vendor.
Product Catalogue
Individual collection of products for sellers.
Product Approval
Admin controlled product approval process.
Commission
Seller wise commission setting.
Reports
Vendor wise sales reports.
// Get Free Support
90 DAY
//Core Features
eCommerce Website Development - Core Features
The success of an eCommerce website depends on the features and functionalities it offers. As a trusted eCommerce website design company in India, we offer all the essential features required for a successful eCommerce store. Starting from a rich UI/UX to cross-device friendly coding for seamless access across the mobile, tablet, desktop and laptop – we take care of it all. Besides, all our eCommerce portals are developed with the option to scale up as the business grows.
Content Management Capabilities
Promotion and Discount Management
Customers' Data Collection




Benefits of Having an eCommerce Website
eCommerce websites offer a bunch of benefits to the shoppers. They can check numerous products irrespective of the location of the shops, compare prices & other benefits, and finally select an online storefront to place their orders. If your business is still limited to a brick and mortar store, you will lose a large pie of potential customers. Here's a list of benefits of having an online store.
Quick Setup
Compared to a physical store, an eCommerce store can be set up much faster. Here, choosing the right eCommerce website development company is the biggest challenge. Once you select the right team for developing your online storefront, they will take you through the rest of the development and deployment process.
Bigger Reach
An online portal helps a business to reach out to more customers, irrespective of the location of the business. You simply need to offer a large inventory of products and competitive pricing. By engaging a reputable shipping company you can target the whole country and also a few overseas countries of your choice.
Lower Marketing Cost
With the increasing cost of marketing through print media and electronic channels like television or radio, an eCommerce website can be marketed well through internet based marketing. You can engage a trusted digital marketing agency to market your website through search engine optimization, social media marketing and more.
Lower Cost
Setting up an eCommerce website costs much less than building a physical store. Further, once your website goes live, the maintenance cost is much lower than managing the physical store. All you need is to renew your domain name, the hosting server space and a few essential plugins, periodically. Therefore, building an eCommerce website is a profitable investment.
24x7 Support
An eCommerce website never sleeps. Unlike a physical store that has fixed operational hours, an online store remains open round the clock. This helps your customers to shop at their convenient time. Further, with the inclusion of an AI driven chatbot, you can handle your customers' queries real fast. This produces a positive impact on your revenue.
Performance Monitoring
Every eCommerce website comes with some sorts of reporting and analytical tools. By using these tools effectively, you can measure performance of your online store. You can get an insight into the products that attract your customers the most. You can also take effective decisions by analyzing demographics of the customers.
// Frequently Asked Questions
eCommerce Web Development Services - FAQ
As a leading digital marketing agency Bangladesh , we believe in a transparent service. You should clear all your doubts before engaging our service. Below, we will address a few frequently asked questions with our best knowledge. Go through these and if you still have any query, feel free to reach us.